Welcome to Learn to Sing
Marion Shuster has over 30 years professional experience as a singer, teacher, conductor, composer and producer of concerts and shows.
She studied music at Girton College, Cambridge and is well known locally for her work with people of all ages and abilities who share a common desire to learn to sing, whether it be as a hobby or part of a full programme of tuition leading to University or College entrance. She firmly believes any person can learn to sing!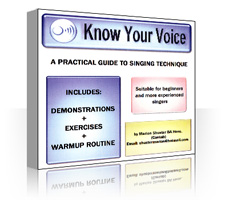 The 'Know Your Voice' CD is great for beginners - laying out the basics of vocal technique, but is also a useful warm-up and exercise routine for more advanced singers. The CD can be used on its own, or in combination with lessons.
"Absolutely excellent. It has boosted my confidence and given me very much help indeed with both my singing and speaking voice."
"Thank you. I am a professional singer now, but I still use your CD for my warm-ups."
There are more details of the CD on the Know Your Voice product page.